Get more information and sign up at Lori's Country Cottage.
Over the last few years, I have had the opportunity to teach on quilt cruises. Quite often people ask "What does a quilt cruise look like? Are all of the people on the cruise quilters? Do you sew all of the time? What happens at port?"

To answer these questions: The people who sign up through the sponsor of the quilt cruise, as quilters are the ones who attend the workshop. Non-quilters spend time around the ship with the variety of activities offered. The quilt class is only when the ship is out to sea – when it is getting to and from the destination area. At each port everyone chooses to see the sights, go on excursions, or just relax on the ship.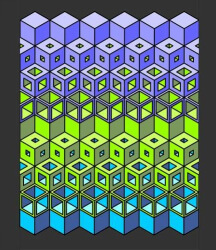 Lori from Lori's Country Cottage in Sherwood Park, AB, Canada has invited me back for a third time to be the featured teacher. The project is an exclusive, variable hollow cube quilt based on Sara Nephew's design made with strip-piecing and no set-in seams (Y-seams). Since the class is over 3 days time, there is a lot of personalized instruction and the project is well on its way to completion. Also, my goal in the workshop is to teach as much as possible to make all of your quilting less stressful and even more successful.

Join Lori and me to learn the easy way to make this intriguing design and in between class days, visit glorious ports-of-call including Aruba, Bonaire, Curacao, and more. See more information at Lori's Country Cottage website. Note: The prices are listed in Canadian dollars. For a very rough estimate in US dollars, take 25% off the price. The actual price is determined by the exchange rate at the time of processing.