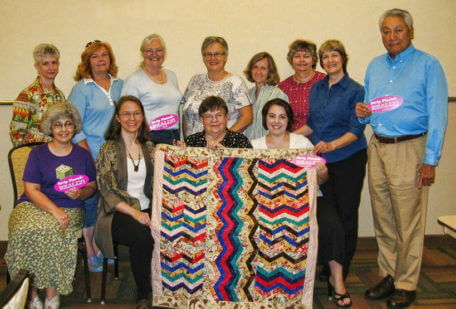 Here in Bellingham, Washington, Sara Nephew, Susan Simono (my office manager) and I are busy with one of our days of teacher certification, with 6 of our teachers and Ruth, one of our veteran teachers from the Los Angeles area. We have started with the basics including "perfect" seam allowances, rotary cutting without "V" cuts, and selecting value and color for quilts. Since many of the students are current quilt teachers and shop owners, we often have discussions of our different experiences.

Sharon of Sharon's Attic in Hillsboro, Oregon explained this concept for helping her students select fabric. If she picks a fabric to recommend and they say they do not like it, they have to tell her why they do not like it. She has learned, like I have, that by getting someone to say why they do not like something, this helps them better understand what they do like. Their choices are easier as they can put words to what works and what doesn't work.

Some examples of what the answer might be: it is too dark or too light, too dusty looking, too bright, doesn't seem to play nice, too blue-green rather than yellow-green, too busy of a print, or too bland, etc.  As you can see, it is very relative to what else has been chosen. Personal preferences play into the results, but there are usually underlying basic concepts that define the issues.

Enjoy your quilting!

Marci