We have had some great responses to the suggestions on Startie-Stoppies.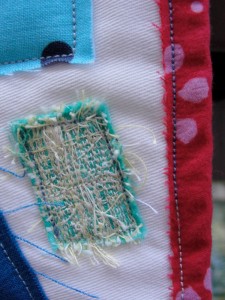 Here are some of the responses we have received:

From Charlotte: I have used these for years. When they were taught to me they were called "thread garages."
My thought: That is another great name…when I was taught it was called a "shim." I like Startie-Stoppie (which I heard in 1999 at Baytown Area Quilt Guild in Texas) because it says what you do with it. Many quilters that I have met had only been taught to start with them. They were missing out on more than half of the benefits of the method.

From Lucy at The Quilt Rack in Ancaster, ON, Canada: Make stack of 2″ squares and instead of using a [Startie-Stoppie] use two of the pre-cut 2″ squares (or size of squares to suit you).  Your "Leader/Ender" quilt will be finished in no time.
My thought: This is what Bonnie Hunter's book Adventures with Leaders and Enders is about…making a quilt in between your other projects. But don't forget that when you don't have pieces pre-cut, you still want to continue the method with scraps. At one of our certified teacher's trainings we had a discussion about using the names leaders and enders instead of Starties-Stoppies. We decided that Bonnie's book has made leaders and enders be known for making a quilt with the pieces – not just sewing on scraps. (as the next comment reinforces)

From Carla: I learned these as leaders and enders and instead of scrap, I use the trimmings from the bias seam for binding Binkys.  I have a ton of triangles left over and sew these together to make half square triangle blocks…the work is half done!  [It] will make a great scrappy top when I get enough together to play with it.  No wasted fabric, no wasted thread!
My thought: Isn't that great what you can make with the leftovers!

While sharing my great experiences with Startie-Stoppies to other quilters, I was told "They keep everything together, neat, clean, and in order." This quote exemplifies what Startie-Stoppies are meant to do.  I would also add that they help everyone play nice…the sewing machine keeps sewing like it wants, and we get to keep sewing like we want…without the headaches.

Here are six more reasons why I have found Startie-Stoppies to be so useful.
7.  I don't have to buy thread as often.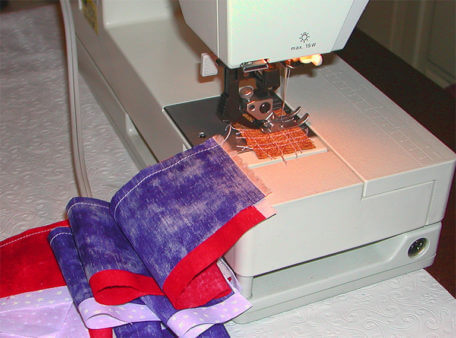 8.  I get to use all of my fabric, even the little bits that would be thrown in the trash. I recycle and reuse my scraps!
9.  I use them to stay organized when piecing rows. There is a Startie at the beginning, my piecing in the middle – in order, and nothing at the end. So if I walk away from the project, I always know where I left off and can easily pick it up again.  So I'm spending my time sewing, not trying to figure out where I was.  Another way to look at this, I can sew when I only have 10-15 minutes, make progress, and continue later knowing I'm sewing in the right direction.
10.  I use them in between sections to keep them separated. Using a different color than my project makes it easier to distinguish rows/sections.
11. At times, I have numbered my Startie-Stoppies to keep track of rows, replacing the paper and pin method.
12. As mentioned above, I can make two quilts at once by using pre-cut fabrics.

If you're wondering what the first six reasons are, you can read them in this post: Using Startie-Stoppies Saves Time to Make More Quilts.

If you have the opportunity to teach anyone sewing/quilting, be sure to teach them to use Startie-Stoppies from the very beginning. They will enjoy their sewing so much more (no matter what level of machine they are working with) and will be more likely to continue sewing.

Here are some more fun names for Startie-Stoppies:
– Thread Garages
– Shim
– Mothers
– Piggies
– Bunnies or Bunny Tails
– Leaders & Enders
– Anchors
– Herman
– Thread Buddies
– Spiders
– Leads
Enjoy your quilting!

Marci