"OH MY GOSH ……. OOOOOOOOOOOOOhhhhhh …..wow …. it really works. It took me a couple of replays to make sure I was following the directions exactly, but it worked….. the first time. Thank you oh thank you."
That made my week…and what a week it was. We had been having some trouble with the shipping portion of our website; fortunately it is now fixed.  Seeing this customer quote under one of my videos truly meant the world to me and helped me get through that rough week.  Sometimes you don't see that there is a problem until you stand on the other side of the fence. Our international customers were the ones that helped us to see from the other side.  Hopefully, with our new and updated website, problems such as this will be a thing of the past…But keep the great comments coming!


Currently, we are working on some new products, new videos, and new opportunities for you to enjoy your quilting even more.  I am also always looking for new places to travel to and spread some knowledge on how to make quilting as easy and fun as possible.  When teaching, the lecture is one of my favorite topics because I get to show how to remove some of the annoyances that we as quilters just accept…like getting that "V" in the middle of a strip when rotary cutting, or having a piece not fit when foundation paper piecing, or having the machine fight us rather than work with us.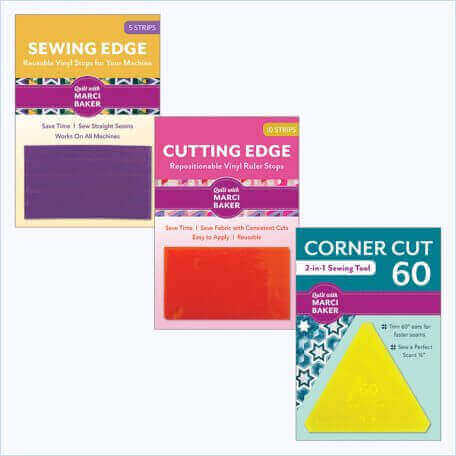 With my engineering and math background, I look at the task and refine it to use the least number of steps with the most success possible. I'm always looking at the process trying to make it efficient, fun, and positive. That reminds me of another quote. After a holiday concert, a husband took the time to tell me that he and his sons noticed that Mom didn't come out of the sewing room in a bad mood any more because of the quilt tools he had gotten for her.  Her response was, "With the orange and purple strips and the Corner Cut, everything works and fits as expected." It never occurred to me that these products would affect the mood of a household, but it makes sense that it does and I couldn't be happier to help!

We hope you and your family are enjoying your quilting!

Marci